Drag racing is by all definitions, a sport of extremes. Think about the amount of money that goes into turning a car into a speedy machine. What of the inconceivable amounts of fuel spent?
You haven't seen anything yet till you find yourself standing behind two top-fuel dragsters and watch as they unleash 8,000 horsepower between them. Feel the roar in the air, the shaking grounds, and smell the noxious fumes. What a spectacle it is?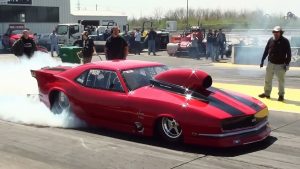 Jaw-breaking
Nothing epitomizes drag racing like top-fuel. It is basically a dash for the highest prize. In just 4 seconds the best drivers would have done the quarter mile. To achieve that, they have to drive at 300 mph.
Many people who start as spectators end up participating in the races at some point.
Experienced drag racing drivers describe it as the most amazing thing they have ever experienced. Having to move from zero to 100 mph in an instant is just jaw-breaking. 8 Drag Racing Cities in the US
Magnetos
But how did drag racing start?
In the 1930s the seeds of American drag racing were planted on the dry lake beds of the American West. However, it was after the Second World War that the National Hot Rod Association (NHRA) was formed. In 1953, NHAA held its first official race at the Los Angeles County Fairgrounds parking lot. Just like today, the objective was to reach the end as quickly as possible.
Without the ability to produce crazy amounts of power and torque, top-fuel dragsters cannot achieve that. Many of these cars use the V8 engine with two valves per cylinder and a centrally located camshaft. The engine blocks have to be machined from solid blocks of aluminum to make them strong enough.
Compared to other car engines, top-fuel dragster engines use a lot more air, fuel, and spark. A 14:17 supercharger will run 45 to 50 pounds of boost and suck down up to 3,200 cubic feet of air per minute during a single run. About 95 gallons are moved by the fuel pump in a minute. Blame that on the constant-flow injection system. There is a pair of custom-made spark plugs in each cylinder and which receive the spark from two magnetos. 6 Drag Racing Tips from the Pros
What you get is an engine that's capable of producing some 8,000 horsepower and 6,000-pound feet of torque. Simply put, it is six times more than the Bugatti Veyron Super Sport which is the fastest production car in the world.
That's mind-boggling. In fact, a top-fuel engine can move a 2,250-pound dragster from zero to 120 mph in just 1.3 seconds.
To shift from 120 to 280 mph, it takes another 1.7 seconds. According to the NHRA, a top-fuel dragster can accelerate faster than a fighter jet from a standing start. Only after two seconds into a run, the driver is experiencing up to 5 times the force of gravity.
You wouldn't find any other car with the power of a top-fuel dragster. That's why some people will do anything to participate or spectate a drag race.
Please follow and like us: